covid: NFHH requests financial assistance from the Center to prevent suicides and starvation among weavers affected by Covid | India News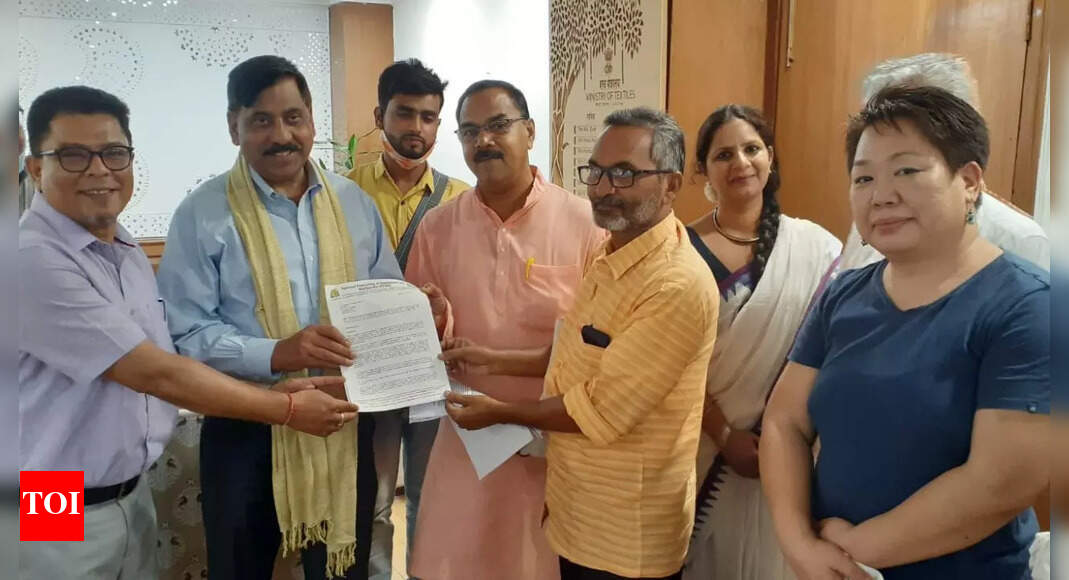 AMARAVATI: Drawing the Center's attention to starvation deaths and suicides among weavers due to Covid-related loss of livelihoods and halt in production, the National Federation of Looms and Looms Handicrafts (NFHH) on Wednesday asked the government for financial and institutional assistance to set up supply and production centers.
A delegation from NFHH met with Union Textiles Secretary Upendra Prasad Singh in New Delhi on Wednesday and briefed him on the crisis situation prevailing in the loom sector.
NFHH President Macharla Mohan Rao said hand weavers were at risk of starvation and suicide in different states due to loss of livelihoods and halt in production. He called on Singh to take the lead in saving weavers from starvation by providing support to the industry.
The delegation, comprising Macherla Mohan Rao (AP), Nihar Ranjan Kalitha (Assam), Vijay Bharti (Chattisgarh), Khisa Zhasa (Nagaland), Nasir Ansari and Maheswari (Madhya Pradesh), V Karappa (Tamil Nadu), Suraj Dev Kumar ( Bihar) and Akilst Kullu (Himachal Pradesh) observed that hand weavers are experiencing widespread displacement and loss of work since the Covid-19 outbreak. They said that the handicraft sector, second only to agriculture, is a major source of employment in rural areas.
The hand weaving sector provides livelihood to over 31.45 lakh households engaged in weaving and related activities on average for a total of 208 days per year which according to the fourth census of All India Handloom Weaving 2019-20 is an increase of 183 in 2009-10 (Third Loom Census.)
"Most of the weavers belong to the weakest strata of society and minority communities. These weavers are the most affected by the Covid-19 pandemic as they no longer receive work from master weavers and cooperative societies since March 2020," said Mohan Rao.
In addition, the production and supply of cotton yarn and silk are seriously affected due to the closure of spinning mills and silk reeling units. Weavers have lost their livelihoods as master weavers have stocks of products piling up due to the market downturn and are also burdened by the sharp rise in prices for cotton, silk and zari yarn, a- he declared.
According to the report of the textile committee, the demand for textiles per capita increased from 3,836.13 rupees in 2015 to 4,081.60 rupees in 2016. The quantity per capita increased to 31.85 meters in 2016 from 30.27 meters in 2015, registering a growth of 5.23% during this period. The per capita demand trend shows that the average person's consumption of textiles increased by 1.58 million during the period 2015-16. Overall demand for hand loom textiles increased to 2.15 billion m in 2016 from 1.91 billion m in 2015. Demand for looms increased by 12.66% compared to previous year and the projected aggregate demand for looms for the year is 2.53 billion m.
The facts above demonstrate the importance of handlooms as a vibrant, viable and productive traditional economic enterprise and underscore the urgent need for government support to protect both weavers and the industry in the current crisis. to protect livelihoods.
"The loom sector is severely affected leading to loss of working days, weavers are facing severe starvation resulting in health issues and deaths and also resorting to suicide. We call on the government to intervene immediately by providing financial and institutional support for the establishment of supply and production centers," said Mohan Rao.